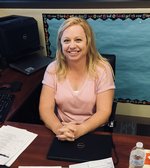 Welcome to Manse Elementary School!
775-727-5252
Email
Hello and welcome to Manse Elementary School! My name is Laura Weir.
This is my 19th year as an educator in Nevada. I graduated from UNLV in 2000 and taught for 2 years in Clark County before moving to Pahrump. During the past 16 years in Nye County, I have worked at JG Johnson Elementary, Mt. Charleston Elementary, and Rosemary Clarke Middle School. In November of 2016, I received the wonderful opportunity to become the Principal at Manse Elementary School.
I have enjoyed every moment at Manse. The students are fun, smart, and hard-working. The staff is inspiring and dedicated. The parents are wonderfully supportive. I am so proud of the accomplishments of our school, as last year we were recognized as a Shining Stars School by the Nevada Department of Education and we were given a 4 star rating, only a 1/2 point away from being a 5 star school! I know we have what it takes to continue soaring to success, and I am committed to support our school every step of the way.