Watch D.O.G.S.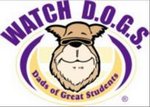 Watch D.O.G.S
Dads Of Great Students
Dear Dads, Grandpas, Uncles and Father figures,
Manse Elementary is excited to announce that we will be starting the very first WATCH D.O.G.S Program in Pahrump. WATCH D.O.G.S. ® (Dads Of Great Students) is an innovative father involvement, educational initiative of the National Center For Fathering. There are two primary goals of the WATCH D.O.G.S. ® program.
1) To provide positive male role models for the students, demonstrating by their presence that education is important.
2) To provide extra sets of eyes and ears to enhance school security and reduce bullying.
We would like to thank all the fathers and father figures that attended the Pizza Party Night! We are looking forward to having you on our campus. There are just few more steps to make this possible.
1) Complete the Watch D.O.G. S. registration form
2) Complete the Volunteer Packet and return to the school (Make sure to attach a copy of your driver's license and SSN card)
3) Once the volunteer packet is processed you will receive an email or phone call from the volunteer office with your volunteer code
4) When you have your volunteer code, come to the school to sign- up on the Watch D.O.G.S calendar!!!
If you have any questions please feel free to reach out to Sierra McKillips or Laura Gabrylczyk at (775)727-5252 ext. 316