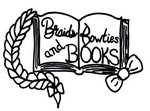 Braids, Bow-ties and Books
Safe place for students to get their hair done and improve reading abilities.
Over the course of a year it is the goal of every school to identify new and exciting ways to help the students. Based on the inspiring story of Sunnyside Elementary School "Books and Braids", this project allows students to come in before school hours to get their hair done while reading a book out loud. Our school has decided to get a similar project started. In order to encompass both girls and boys in this unique experience, we have chosen the name "Braids, Bow-ties and Books". This will be a safe place for students to come in to get their hair done either in a braid, or spiked up with gel, while reading a book out loud. Students will be able to participate in this experience during their recess and lunch. The addition of this project, "Braids, Bow-ties and Books", would benefit the students by building self-confidence and increasing their reading abilities. This project would also benefit the students by connecting them with a trusted adult.
This is free service to all students at our school.
Want to help?
Here is how you can help :
1. Donations of items such as BOOKS, hair brushes, combs, spray bottles, hair accessories, gel, hair spray, detangler, and plastic pencil boxes.
2. Volunteer: All volunteers must go through the School District volunteer process first. Once approved through the volunteer process volunteers can set up a time during recesses to come in an help.